"Give a girl the right shoes, and she can conquer the world." – Marilyn Monroe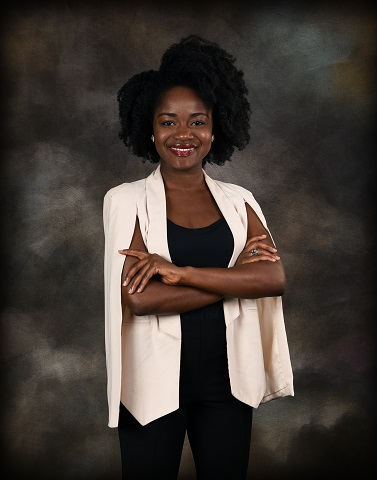 Ruby B. Johnson lives by this quote and helps girls in Nevada to see the value in it as well. Ruby's experiences range from Miss Sierra Leone USA to Mining Engineer to creator of her magazine, STEMher by Ruby B. Johnson Magazine. While she wears many shoes, Ruby advocates for women, and other underrepresented groups, in STEM.
Steel-Toed Boots
Born in Sierra Leone, Ruby moved to Maryland at 12 years old. Ruby's interest in working with underrepresented groups of people started young, and during high school, she volunteered at a summer camp for children with autism. Later, she attended Virginia Tech and earned a degree in mining engineering. She landed a mining internship at a Sierra Leone diamond mine while in college, giving her international mining experience. After college, Ruby worked for the U.S. Forest Service, where she gained insight into environmental protections. Using this knowledge, Ruby found herself across the country, working for Nevada Gold Mines here in Nevada, as the Environmental Engineer for the open pit.
Ruby contributes her success in part to her teachers. In school, her teachers and professors would act as mentors to her, making recommendations, exposing her to a variety of engineering fields, and even driving her to appointments and classes. Ruby says her teachers saw engineering in her before she saw the engineer in herself. With strong teachers and a strong single mother, Ruby has paid it forward by mentoring young girls in STEM fields.
High Heels
The opportunity for community service is what attracted Ruby to the Miss Sierra Leone USA 2012 competition, which she of course won. She competed on the platform of recruiting and retaining girls and women in STEM. With this unique position, Ruby visited schools, gave interviews, and reached the community via radio spots, along the way spreading the message that girls can do anything; they can wear any shoe! From there, Ruby competed in Miss Earth USA as Miss Earth Maryland. She again toured schools, this time sharing information about responsible mining and reclamation. Little girls saw themselves in Ruby, and saw their possibilities open up. Ruby also earned the title of Miss Elko USA 2018 and represented Elko at Miss Nevada USA, where she won the Miss Photogenic award. (Miss Nevada USA determines which woman represents our state at Miss USA and could end up competing at Miss Universe.) Through these experiences, Ruby was able to connect with girls from all over and "do life with them." She showed the girls that what you say and how you treat people matters, and that girls in STEM can look a lot of different ways. STEM isn't always easy, it's real life, but it's worth it.
Flats
Ruby wanted to do more and reach beyond her radius of influence. She wasn't sure what format her reach could take but sat down to write and her magazine, STEMher sprang to life. At first, she wrote about her friends, family, and colleagues in STEM, to share their stories, but has since included a whole host of women from across the United States and across the world. She wants the magazine to show girls how women found STEM, what experiences they've had, what struggles they've worked through, and all of the different options and paths girls have, even within one discipline. Ruby wants girls to know that sometimes they may be the only girl in the room, the only black person in the room, the only engineer, or the only pageant winner in the room, and that's okay; she wants girls to know that shouldn't discourage them.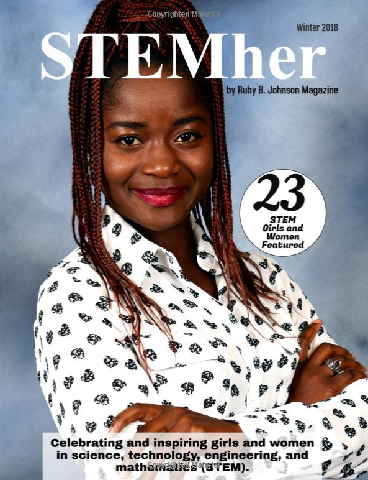 "STEMher by Ruby B. Johnson is a quarterly print magazine featuring the education, experience, and skills of girls and women in science, technology, engineering, and mathematics (STEM) fields - in programs, academia, and/or workforce. STEMher celebrates girls and women in STEM and inspires others to pursue education and careers that are STEM-related. Featuring well-rounded women sharing their subject matter expertise, this magazine shows that there are several paths to success and reaching for excellence. Whether a student, young professional or retired, have a certificate or doctorate degree holder, vocational training or college education, the journey and stories of all girls and women are featured in the magazine. STEMher provides insight on continuing education, training and activities, professional and personal development, codes and standards, research, programs and career opportunities, conferences and events, government relations and other touch points to its readers. STEMher by Ruby B. Johnson Magazine provides timely, relevant information to assist in career and professional development and advancement in STEM. All girls and women are encouraged to share their story – whether they received some form of training in a STEM field or later got into a STEM career. STEMher by Ruby B. Johnson Magazine is a limited-liability company (LLC) registered in the state of Nevada." – Magazine Description, Amazon
Ruby's magazine, STEMher by Ruby B. Johnson Magazine, is released quarterly and has featured over 50 women and girls in STEM fields in the four issues that have been produced since September 2018. The magazines are available on Amazon, and is something all girls should be seeing in school libraries, coffee shops, hair salons, and doctor's offices! Ruby's goal is to get this magazine into as many hands as she can to show girls that they can wear any pair of shoes they want to wear; that they can do anything!