A lot has happened in the world of computer science in Nevada. Thanks to the work of the Department of Education and Computer Science Subcommittee of the STEM Advisory Council, Nevada is recognized as a national leader in computer science. Below are updates on five topics of information:
Half-credit course in CS - updates
Educator Professional Development Options
State Computer Science Video Competition
Proposed Integrated Technology Standards Revisions
2019 Legislative Session - CS Bills to Follow
Computer Science and Applications - half-credit course required for graduation
With today's advancing technologies in most every career path, the need for a basic knowledge in computer science and computational thinking, along with our current computer literacy, is essential for our students to be successful in the future. Our students need to understand how to not only be users of technology, but also creators of it.
IMPORTANT: This new course must be in place for students at the beginning of the 2019-2020 school year. The Class of 2023 will be the first coming through under the new requirements for graduation. Districts may provide a waiver to any middle school student who has taken the half-credit technology course through the 2018-2019 school year. Please see this Guidance Memo 18-18 from State Superintendent Dr. Steve Canavero.
NOTE: A subset of the K-12 Computer Science Standards AND the K-12 Integrated Technology Standards will be used to frame the concepts that are required to be taught in this Computer Science and Applications half-credit course. This subset of standards DOES NOT contain all of the computer science standards that students are required to have learned in secondary.
This subset of standards, and other FAQs, are described in the Guidance Document for the new Computer Science and Applications course.   Please check with your district leaders on the curriculum for this course. One clarification:
Code.org CS Discoveries Curriculum: The Code.org Computer Science Discoveries curriculum is NOT to be confused with this half-credit course required for graduation from high school. CS Discoveries is a full-year long course and is an elective option at some middle school sites in the state. Please check with your district to see if this course is being offered in your area. Some districts may choose to incorporate units from CS Discoveries in their Computer Science and Applications semester course ONLY if they do not also offer the full semester course as an elective. Again, check with your district representatives so as not to inadvertently cause repetition for students.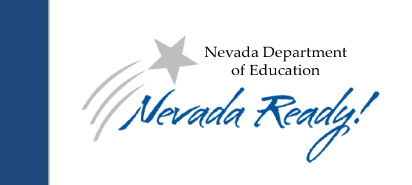 Educator Professional Development Options
The Nevada Regional Professional Development Programs throughout the state are offering coursework leading to the teacher endorsements for computer science education. Please reach out to Glenn Krieger at kriegerg@rpdp.net for more information on coursework.
In addition, approved coursework is available through UNLV, Touro University, Nevada State College, and SUU. Visit this page for more information.
Nevada Computer Science Video Competition 2019
Why is Computer Science Important For Me to Learn? This is the question we asked our K-12 students in Nevada. In our world of self-driving cars, robots, artificial intelligence, and smart phones....who better to answer this question than our youth! The competition closed March 31, 2019. Judging and awards will take place late April / early May. Click HERE for information on the competition and important upcoming dates.
Proposed Integrated Technology Standards Revisions (former Ed Tech Standards)
On October 18-19, 2018, a group of 24 individuals representing the majority of districts across Nevada, came together to revise our 2010 Educational Technology standards. The team reviewed many current technology standards in the country, including the nationally recognized ISTE standards that were revised in 2016. They deliberated and designed the set of standards that are linked HERE. They also renamed these proposed set of standards to the 2019 Integrated Technology Standards, recognizing that technology isn't something that is necessarily taught in one course, but rather integrated into every subject area and classroom across our state.
Many of you are familiar with Senate Bill 200 that propelled our computer science initiatives. SB 200, section 5 states that computer science and computational thinking standards were to be added to the Nevada Computer Education and Technology subject area. At the time of the writing of SB 200, the only standards that were in this subject area were the 2010 Ed Tech standards. Now we have both the Nevada Academic Content Standards for Computer Science and the newly proposed Integrated Technology standards that will comprise this subject area.
From this point on, the complete standard set for the computer education and technology subject area will be referred to as the:
Nevada Academic Content Standards for Computer Science and Integrated Technology.
They each have their own set of standards, but will reside in one document for clarity and ease of use by educators. As you read through the full document, you will notice that many of the newly proposed Integrated Technology standards reference the Computer Science standards. Furthermore, as you review this document, you will see how they work hand in hand to cover this subject area in its entirety. Once these proposed Integrated Technology standards are approved, resources will become available showing how the old has become the new and how they are compatible with the computer science standards. Please watch for those resources to become available soon.
2019 Legislative Session - CS Bills To Follow
For those who are interested in legislative policy and follow the computer science bills that are introduced, there are two bills being considered this session relating to computer science education. The topics of each are described below and links are provided to the actual bill drafts:
Senate Bill 313 - (BDR 34-731)
"An act relating to education; authorizing a person who receives an endorsement to teach in a field of specialization relating to computer literacy and computer science to request a reimbursement; creating the Account for Training in Computer Literacy; requiring a regional training program to provide training on methods to teach computer literacy or computer science; authorizing the Board of Regents of the University of Nevada to apply for a grant of money from the Account to establish curriculum and standards for the training of teachers in computer literacy and computer science; making an appropriation; and providing other matters properly relating thereto." Link to bill draft: https://www.leg.state.nv.us/App/NELIS/REL/80th2019/Bill/6554/Overview
Senate Bill 476 - (BDR 34-819)
"An act relating to education; requiring the development of an Internet repository of resources for providing instruction in computer science; requiring the Department of Education to assist school districts, charter schools and university schools for profoundly gifted pupils to establish programs of instuction in computer science; establishing a program to award grants to school districts and charter schools to provide incentives for a teacher to earn a degree or other credential in computer science; and providing other matters properly relating thereto." Link to bill draft: 
https://www.leg.state.nv.us/App/NELIS/REL/80th2019/Bill/6909/Overview