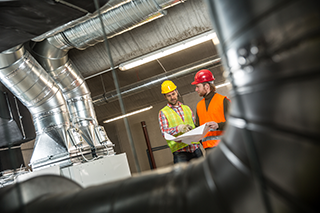 While there are many trending STEM jobs out there right now, we thought we'd take the temperature (see what we did there?) of the HVACR industry — the industry acronym for "Heating, Ventilation, Air Conditioning and Refrigeration."
"If you're smart and willing to work hard, you're going to be in high demand and make great money," shares Brian Hess, the branch manager of the northern Nevada office for Norman S. Wright Mechanical Equipment, which represents HVAC manufacturers from around the world.
He shares that there is a serious shortage of technicians in this field — and that demand continues to rise, creating serious opportunities for people interested in HVACR as a career.
This phenomenon is not unique to Norman Wright or northern Nevada. In a report published in September 2015, the HVACR Workforce Development Foundation reported that: "As the economy hits full stride coming out of the Great Recession, the Bureau of Labor Statistics (BLS) estimates that the number of HVACR mechanic and installer jobs will increase by 21 percent through 2022, nearly twice the growth of employment overall. Likewise, the Social Security Administration estimates 22 percent of the U.S. workforce will retire during this time. As demand heats up, the supply of trained HVACR talent is not keeping pace and may even be shrinking."
Not only is demand high, but this is one field that is relatively recession-proof. No matter what happens in the economy, it's vital that our HVACR systems run efficiently. And these are jobs that cannot easily be outsourced to machines — or to China.
Here are just a few reasons to consider a career in HVACR:  
Jobs are everywhere: HVAC jobs cover the gamut of skills and location. You might work for a corporation as a facilities manager or a local HVACR company servicing homes or businesses. With the right education and skillset, you'll be able to work anywhere in the world. Hess says many unions have an open call for travelers, which means they're working to attract employees from throughout the country. "People in this field can work as much as they want," he shares. "And they can work wherever they want. This shortage is happening everywhere."
Job opportunities will continue to be plentiful: According to a nonprofit called "Explore the Trades," an organization dedicated to helping individuals find a career in the plumbing, HVAC and electrical trades, much of the job growth is because of new technology combined with a focus on more environmental solutions. According to the group's website: "Older HVAC equipment is far less efficient than today's models, costing consumers more money to run, offering less comfort and also taking a larger toll on the environment. In an effort to 'go green' while saving money and providing better comfort levels for their homes and workplaces, consumers are making the change to newer HVAC systems. Consumers are also more educated on how keeping their HVAC equipment maintained will benefit them in the long run. With projections of system installations and maintenance on the rise, HVAC techs will be busier than ever."
The opportunity is there: "You'll get out of it what you put into it," Hess says. "If a contractor sees you showing up on time, working hard and being willing to learn, a lot of doors will open up to you."  
Education can happen quickly: Hess says the fastest route to success is to earn a certificate and then start an apprenticeship program for a union or an HVAC company. The College of Southern Nevada and Truckee Meadows Community College offer technician training, much of which can be completed in less than a year.
There is money to be made: "After a four-year apprenticeship, someone can come out as a journeyman making $75,000 a year," Hess says. "And that's at 22 or 23 years old." Overtime pay is also a real possibility, particularly during extreme temperatures. And ExploreTheTrades.com shares that the HVAC industry is projecting a pay increase of up to 40 percent in the next few years.
Hess shares that in addition to technical abilities, HVACR technicians need to have people skills. "They have to be able to talk to customers and look them in the eye," he says. "And they have to be computer-savvy. It's not just enough to know how to repair the systems anymore."
All of this opportunity does come with its challenges. "You're fixing the problem, so you might be up on a roof in 100 degrees or outside in freezing temperatures," Hess says. "You might be working in cramped spaces. And non-traditional hours are common."
The bottom line? These are good jobs, in high demand, offering plentiful opportunity for people who are willing to work hard. If you're interested in learning more — including more info about wages, employment projections, similar jobs and education — visit this STEMHub Career Guide  for details.