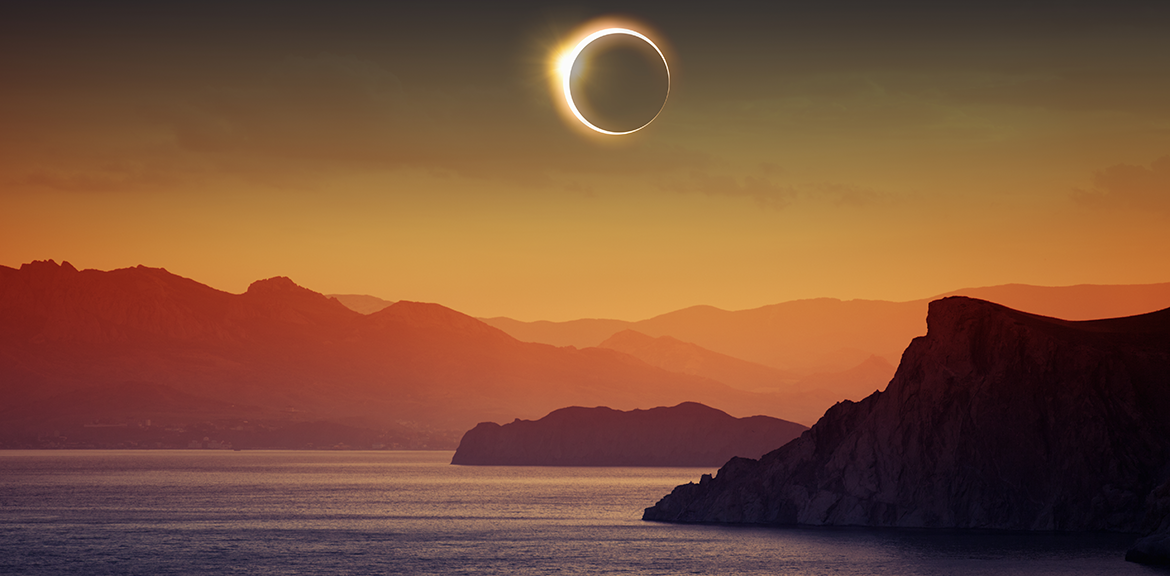 As we approach the date of the first total solar eclipse to pass over the U.S. from coast-to-coast in 99 years on Aug. 21, here's the most important piece of advice you'll receive: Whatever you do, don't look directly at the light!
(Unless you have the proper tools, that is — and this does NOT mean your regular sunglasses.)
The total eclipse will be viewable along a narrow path hundreds of miles away from most spots in Nevada; the partial eclipse, however, will be viewable across the entire US (and throughout Nevada) for a span of a few hours on the morning of Monday, Aug. 21, so anyone with a view of the sun (and safe viewing equipment) will be able to see it.
RELATED: Celebrate the Summer Solstice — STEM Style!
What Will You See? 
How much of the eclipse will you see? Try this interactive map, which shows where you are along the path and what to expect.
The eclipse will start at 9:09 a.m. in southern Nevada. The middle of the eclipse, which is when the most sun will be covered, will happen at 10:27 a.m., and the eclipse will end at 11:52 a.m. The sun will be 72 percent blocked during the middle of the eclipse.
In northern Nevada, the eclipse will happen between 9:04 and 11:43 a.m., with the sun covered about 85 percent (appearing as a crescent) at 10:20 a.m.
How to Watch
Make sure you use safe, approved eyewear. Recent reports are highlighting counterfeit, non-approved glasses, so check twice to make sure yours have a safety rating and comply with requirements.
This article from space.com has all of the details — as well as a sidebar about "How to watch without going blind." Good to know.
Many local libraries have safe glasses — while supplies last. Call your nearby library branch to check availability.
There are other safe ways to view the eclipse, without special equipment. You can even DIY it! Here's one article that shows how to make a pinhole projector, for example.
Eclipse Observations
So what should you pay attention to during the eclipse? Check out this post, which includes this observation checklist:
What's happening with the weather? A breeze might pick up during totality because the air cools down significantly.
What's happening with plants and animals? You might see flowers close up, or birds start to roost as if they're getting ready to go to sleep.
What does the light feel like? The quality of shadows and light will change as the sun gets obscured.
RELATED: It's Time for You to Become STEM-tacular
Where to Go: Southern Nevada
In destinations north and south in Nevada, a planetarium is a safe bet for the coolest viewing party. For example, you can join expert astronomers at the College of Southern Nevada Planetarium for Las Vegas: Eclipsed. Details:
All ages are welcome.
Admission is FREE.
Telescopes will be used for observing.
Live streams from multiple locations throughout the country including near the point of Greatest Eclipse.
Questions will be answered, professional assistance will be provided, and solar-safe viewing glasses will be available for purchase.
Here's a list of other viewing parties throughout southern Nevada.
Where to Go: Northern Nevada
The Fleischmann Planetarium has certified safe solar viewers for sale in its Science Store and can help you make a simple projection viewer, too. Glasses are $2 in the Science Store, open 10 a.m. to 8 p.m. Monday through Friday, 10-9 Saturday, and 10-6 Sunday.
The new planetarium show "Solar Eclipse" is currently playing in the Dome Theater at 1, 3, and 5 p.m. daily, plus 7 p.m. Mondays-Saturdays through August. Details here or call (775) 784-4812.
Western Nevada College's Jack C. Davis Observatory in Carson City will be open to the public on Monday, Aug. 21, starting at 8:30 a.m. Telescopes will be available with appropriate filters, and people can view the eclipse through the Sunspotter. Details here.
Parting Advice
However you decide to celebrate this once-in-a-century event, remember to do it with an eye toward safety — and to the wonders of science.
And if the eclipse sparks an interest in science, tech, engineering or math, be sure to check out our career guide to match your interests with a rewarding career!