Byte-Size CS Blog - FRIDAY
I hope you have had a wonderful CSEdWeek 2021, celebrating #CSEverywhere in our beautiful "Home Means Nevada!" Today's final blog is dedicated to the many educators and industry partners across the state who have celebrated and learned together this year.
I would invite and encourage everyone to dig a little deeper into computer science beyond this week. Reach out if you have any questions, would like to collaborate, or just talk about CS - one of my favorite conversations! Now on to our wonderful celebrations.
CSEdWeek Nevada Kick-off at the Governor's Mansion in Carson City, NV. Administrators and counselors throughout northern Nevada were trained on the importance of ALL our students learning about computer science in every grade level. Meeting facilitated by our Regional Professional Development Program partners.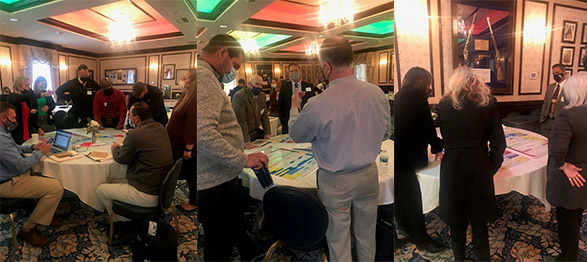 CSEdWeek 2021: Student using Code.org's Hour of Code activity to learn to code at Scott Elementary in CCSD.

CSEdWeek 2021: (L to R) Third grade students in Mrs. Stahl's Media Science class are pair programming at Northside Elementary in Elko County. Three MS students from Lied STEM Academy, CCSD participate in live session with the N.I.C.E. International Cybersecurity Conference.
CSEdWeek 2021: Upper MS students from Lied STEM Academy in CCSD facilitate an Introduction to Computer Science presentation to 6th grade students so they can better understand what Computer Science is and whether or not they want to choose that pathway for 7th and 8th grade at Lied STEM Academy. They facilitated a discussion on Algorithmic thinking, an activity to illustrate the importance of giving specific directions, then introduced a coding challenge and gave support to the student, as needed.