In this edition of the "STEM School Spotlight," we hear from Cody Wall, the STEM and Magnet Coordinator at Lied STEM Academy in Las Vegas, Nevada. Lied is current designated as a Model STEM School. Lied is known in its community as a beacon for STEM learning, and many schools in the area have looked to Lied for inspiration and advice. One of the major events at Lied is the bi-annual STEM Tank event, where students showcase their solutions to real-world problems they have been working to solve. Read more about Cody and Lied STEM Academy below.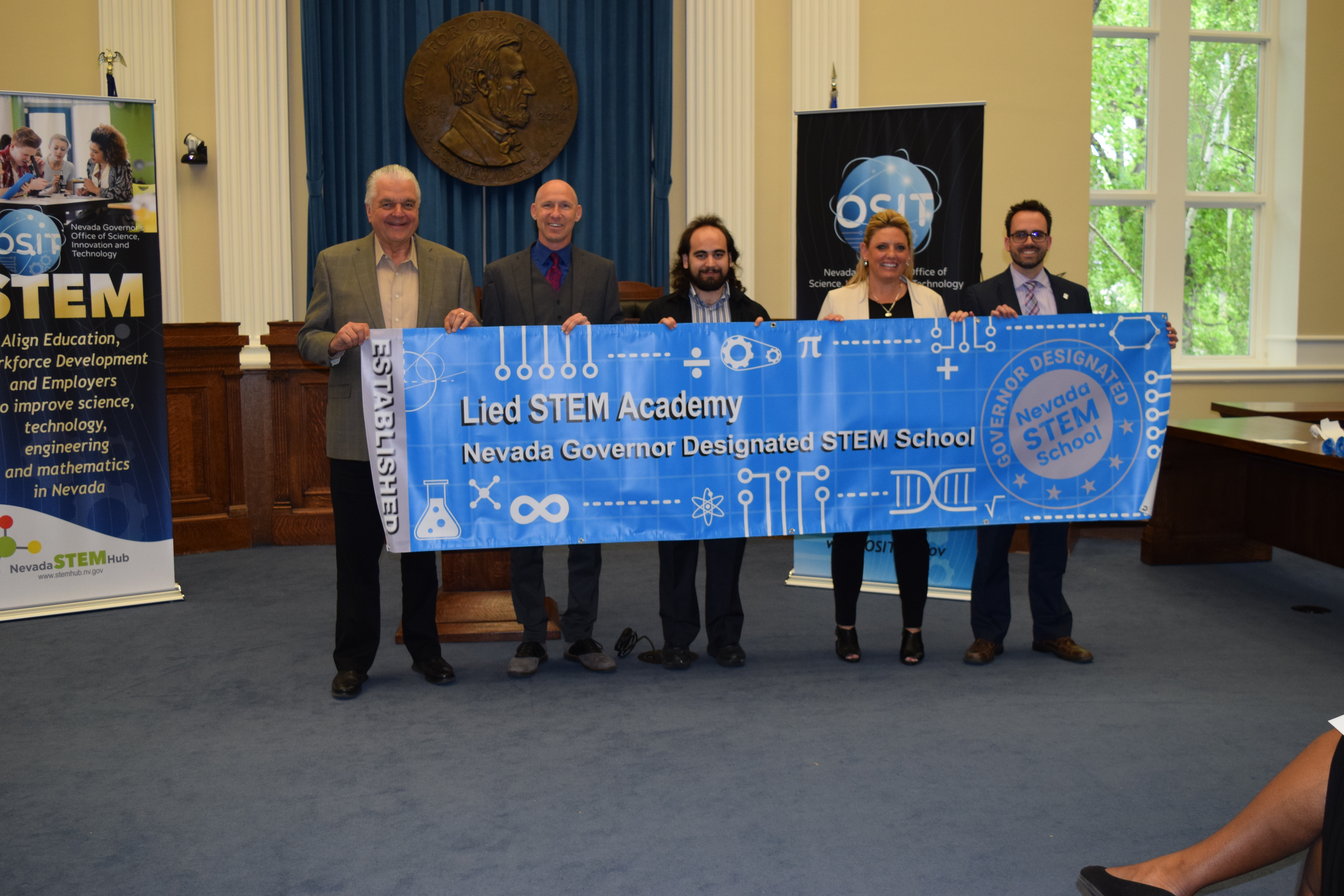 Tell us about your background.
My name is Cody Wall and I'm the STEM and Magnet Coordinator at Lied STEM Academy (LSA) in Las Vegas, Nevada. I am a Nevadan and Las Vegas native, born and raised, while spending a few years in Southern California. I graduated from Cimarron-Memorial High School as President of their FIRST Robotics Competition (FRC) Team 987, and attended Worcester Polytechnic Institute in Worcester, Massachusetts, earning a Bachelor of Science in Robotics Engineering. With the East Coast being way too cold or humid for my liking, and missing the dry warmth of the desert, I returned to Las Vegas. After working on some small projects, IT, and coding work I became a Clark County School District (CCSD) high school teacher at my alma mater high school, coming in with a Business and Industry Licensure. While there I taught primarily Robotics and Computer Science, while also mentoring and coaching for FRC, Vex Robotics, Skills USA Mobile Robotics, and chess. In addition, I was a trainer for robotics and vex coding for new teachers, working with our Career and Technical Education (CTE) department. After a couple of years, I then was hired as the Coordinator at LSA and have been there for the last 3 years. Personal hobbies and off-time include gaming and chess!
What makes Lied STEM Academy unique?
LSA is the first Career and Technical Academy Middle School in the state, with a focus on three CTE pathways. This includes our Architecture & Construction Technology (ACT) program, Robotic Automation & Manufacturing (RAM) program, and Computer Science with IT & Cybersecurity (CSITC) program. Since becoming an academy 3 years ago, the school has earned numerous awards and recognitions, including the Governor's Designated STEM School at Model Distinction, Magnet School of America School of Distinction, and a Project Lead The Way Distinguished Gateway School. LSA pride's itself on thinking and acting outside the education box and tradition. These include major renovations and remodels to the classroom and lab spaces, creating 360 rooms, and utilizing technologies to eliminate the idea of a "front" or "back" of the classroom. We set up the environment to help teachers become more of a facilitator of learning rather than a lecturer, with major focuses on Project and Inquiry-Based Learning and Proficiency-Based Grading.
Tell us about NAV Time and STEM Tank.
Increasing the enrollment of the school from around 900 students before becoming an academy to almost 1700 students now leads to innovative programs such as NAV Time (as we're the home of the Navigators). NAV Time is an hour in the middle of the day, split into two 30 minute sessions where teachers host various activities be it relaxing, hobbyist, or academic. This gives a great break in the middle of the day for the students to just relax, socialize, or get extra help if needed. Students can opt to eat lunch in their NAV Time activity which also reduces the number of students in the Cafeteria and prevent a third lunch period which would have been in the middle of a class. LSA also focuses on real-world applications, working with multiple organizations and community partners to give our students opportunities through field trips, guest speakers, and events. Having a robust Advisory Board of 20+ members from across the county, LSA aim's to directly help students answer the age-old question "why am I learning this?" by showing them exactly how and where it applies. This culminates into LSA's largest and most signature event: STEM Tank. STEM Tank is a school-wide cross-curricular project that replaces the traditional semester exam format. Through our Advisory Board and school's STEM Committee, a theme is decided on that reflects current events and various problems that our students can choose to tackle and design solutions for. Students are in teams of 3-5, working together throughout the semester, connecting standards learned from ALL their classes. This culminates in one final presentation where we invite our community as a whole to the school (families, community partners, other schools, etc.) as they go around to see and hear student pitches of their solution or idea. With the school now at maximum enrollment, STEM Tank has around 400 teams each semester. We also have judges assigned that will score teams based on their presentation and solution, with the top finalist teams doing one last presentation to a panel of judges to earn plaques and prizes based on their final placement. Not only is this a super fun and exciting event for the students, but they're also applying standards learned to possible real-world solutions and, most importantly, teaches and refines their social and employability skills such as teamwork, communication, public speaking, and professionalism.
Why is STEM important to you and why should the broader Nevada community care about STEM?
 As technological advancements become more and more prominent in life, so does STEM. A mentor and friend of mine defined STEM as, "Preparing students for the careers of tomorrow". My knowledge and interest in robotics, especially with coding, has definitely helped me in numerous projects, careers, and activities I've been in. Learning and understanding these skills are HUGE for the success and employability of our students, and would only improve our community. But I also would highlight that not only is academic knowledge important, but also employability skills. You can be a prodigy in robotics, health, cybersecurity, etc. but if you can't work with a team or you can't give a pitch on your ideas, then you're not as appealing to employers or investors. My experience with working with teams, public speaking, and being professional was as important as the robotics and coding knowledge I learned. Nevada has a huge appeal for many companies, most revolved around STEM. For example, we have the Tesla Gigafactory in Northern Nevada, the Switch Core Campus in Southern Nevada, the development of utilizing automation and robotics with agriculture, and many other examples throughout the state. When most people think about "Nevada" they might first and primarily think of Las Vegas and Tourism. But the truth is Nevada and Las Vegas itself have so much more opportunities in STEM-related fields, careers, and businesses with many incentives. If schools around the state and communities as a whole focus on and care about STEM, both in knowledge and employability skills with "preparing students for the careers of tomorrow", and showcasing those opportunities here in Nevada, then the community as a whole will greatly benefit. Nevada has the chance to become a major hub of technological innovation!
 Talk a little about where your school is on its STEM school journey.
While LSA has definitely done a lot in the past 3 years there is still much more to do! Currently, we are continuing renovations at the school, which includes new paint to brighten up classrooms and hallways to mimic that of a start-up or tech company. Our old home economics and kitchen room which has not been used in decades is in the process of being renovated into a construction and manufacturing lab, a project in partnership with Tesla. Classrooms are turning more into 360 rooms, with new flexible furniture and TV's hung on each wall to be conducive for more project-based learning, facilitator movement, and dynamic teaching. We continue to work with our community partners, such as Navarro, the Nevada Contractor's Association, The Rugby Foundation, and many others to establish guest speakers, field trips, and curriculum development (all virtual at this moment). STEM Tank, being our major event, is continually adapted, refined, and improved as it becomes more and more embedded into the culture of LSA and seeks out additional judges for the numerous amount of teams. It's hard to say exactly where we are in our journey, as the journey itself is always ongoing. Just as the technologies and topics of STEM constantly change and adapt, LSA is always at the ready and in motion to innovate! Only when we stop innovating and stop trying to improve will we be at the end of our STEM journey, and may that never happen.
What challenges has COVID-19 posed to your school and what have you done to overcome them?
Some of the biggest challenges the pandemic has caused, and our district going fully distanced learning, was keeping our project-based model of learning, and all the other innovative programs we put in place, intact. While there were definitely challenges and learning curves, we adapted and tackled each; not afraid to further innovate. Teachers created various kits for students and had them ready to be picked up by parents from outside the school. With materials provided, students were able to still have Project-Based learning. Students and teachers learned and adapted to technologies, and how to collaborate with one another through Google Meets and breakout rooms. With LSA being a 1-to-1 school, students already are given a Chromebook to use throughout all their classes in the year, so these tools are already an expectation. With mental wellness being a major and prominent component of students' health during this time, we made a huge focus on interaction with students and opened up virtual NAV Time each week just to get kids socializing and having fun. In addition, we also applied for a grant to give our teachers social and emotional learning professional learning to help them further help students and apply it to life and STEM. Our signature event, STEM Tank, was adapted to a virtual model. Student teams were made and had a mentor who would meet virtually. Each team would submit a 1-3 minute recorded video that our judges would then be able to watch and score. Our top finalists then did a LIVE presentation to a panel of judges through Google Meets, as it was broadcast to the school! We had a 77% retention rate of total teams turning in videos, with over 90% of students in attendance for all their classes.
We took components piece by piece, experimented, and adapted to a virtual environment. To the high retention and attendance rate, we attribute that to the culture of LSA and our focus on bonding with students. A major goal for this abnormal year was to focus on knowing and communicating with students; to know them and not on what they know. While academic success is what we want to strive for, more important was knowing that students were okay and socializing. Any teacher knows that when having a good repertoire with students can significantly help them in the long term and increase their desire to be there and learn. While some students have struggled, others have thrived and that's important as the end result after the pandemic should be to offer an education model that works best for our students.
 What are your plans for 2021?
Outside of what was discussed on our STEM school journey, an additional plan is to establish virtual field trips. Working with community partners, the overall goal is to have either virtual attendance through a wireless camera being brought around while touring a facility or pre-recorded videos of a tour with a follow-up Q&A with the tour guide and company. We're excited to pilot this idea, working with our community partners and also our CTE department that can help foster these types of field trips with other schools. A large benefit to these virtual field trips also comes in the form of less prep and planning, and the opportunity of showcasing it to a much larger audience of students if not the entire school. In addition, we will also have our May 2021 STEM Tank, with the theme of Infrastructure Development aligning with Infrastructure Week. After piloting our first virtual version of STEM Tank, we're excited to see what our students come up with for May!
 Is there anything else you'd like to share?
There is a lot to say that is hard to all put into an interview, and for some topics just reading about it is never as impactful as seeing it. If you're interested in our transformation I welcome you to visit our website, at liedstemacademy.tech, and under "About Us" will be a tab titled "Newsletter". Clicking on that will give you access to every Newsletter that has gone out and showcases a lot of what we've done in the past 3 years. I would also like to invite you to our campus if you are interested in seeing everything in action, discuss our school, our philosophies, and our innovations. Our doors are always open and ultimately our strive is to do what is best for students. If some of our innovations and ideas can help your community, your schools, your students then we'd love to share or collaborate!
Learn more about the Nevada Governor's Designated STEM Schools here.