In this edition of the "STEM School Spotlight," we hear from Kristin Asa, the Magnet Theme Coordinator at Cashman Middle School in Las Vegas, Nevada. Cashman has received the Model STEM School designation. Read more about Kristin and Cashman below.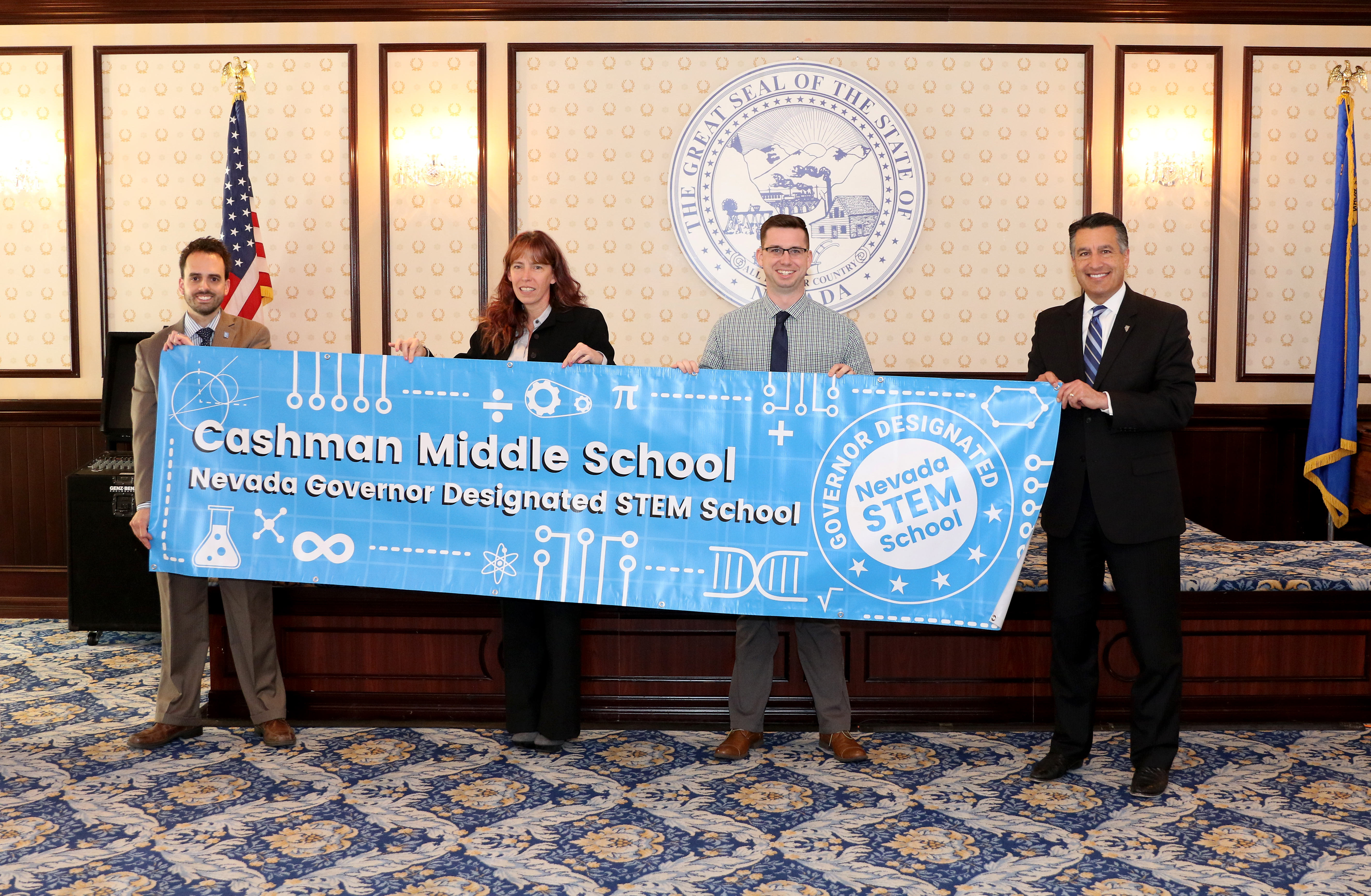 Tell us about your background and about your school.
My degree is in Elementary Education, but my entire teaching experience has been at the middle school level.  My passion is mathematics, and I have a Middle School mathematics endorsement.  I have always worked at middle schools that have a STEM theme for students; and have worked to help build that theme for the students in my classes and the buildings I have worked in.  My current position of Magnet Theme Coordinator at Cashman Middle School allows me to continue helping teachers to build a STEM program that students want to participate in. 
Cashman Middle School (CMS) is located pretty much in the middle of Las Vegas. We are a 100% free and reduced lunch site; all students received free breakfast and free lunch at our school. In 2008, our school was rezoned to start an engineering magnet program, to bring more diversity to our student body, and to provide a program for middle school students to understand what engineering is and how it applies to their lives.  Over the last 12 years, we have worked as a staff to build in the use of the Project Lead the Way curriculum to provide project-based learning across different engineering fields of study.  Our students have built and tested "Penguin Dwellings" to collect data about heat retention in materials, they have built and tested different windmill blade designs to collect data about electricity generation. They have developed houses out of shipping containers based on a client's needs. They have completed capstone projects where students have developed medical devices to help a patient with their mobility, they have redesigned Cashman Middle School with the focus of energy saving concepts, and colonized another planet.  We have continued to evolve our program to incorporate different CTE/STEM electives for students as well.
Why is STEM important to you and why should the broader Nevada community care about STEM?
STEM is important to me because it is the way we connect what we are learning in school to the world around us.  STEM opens doors to students that they didn't know were there for them and provides them opportunities to make real life connections to what they are learning.  Our community should care about STEM and STEM education in order to help prepare our students for career opportunities as they get out of school.  Our society is rapidly incorporating new technology into our daily lives, and we need people who are knowledgeable across STEM fields to help continue making technology an integral part of our society.  If we do not start building that interest and knowledge in schools, then students don't know those opportunities exist when they leave school.
Talk a little about where your school is on its STEM school journey.
We are currently in the evolving stage after being an award-winning STEM program for over 10 years.  We have realized that evolution and change are necessary to continue providing amazing opportunities for our students.  We have opened up our schedule to allow students more opportunities in STEM fields; doing so has allowed us to offer more CTE based courses like Medical & Safety, Automation Technology, Robotics, and Coding/Programming. This allows our students more experience and access to the possibilities that are out there for them.  We are also in the planning phase of becoming a true STEAM program to incorporate the arts into the engineering program that we have.  Thinking like an engineer takes creative thinking and creative problem solving, and we want students to realize how they connect.  
What challenges has COVID-19 posed to your school and what have you done to overcome them?
COVID has basically shut us down and opened up amazing opportunities all at the same time.  We have shifted this year to a lot more demonstration type projects and simulations because we don't have the ability for our students to create and build like they would when on our site.   Many of our projects have been based in theoreticals; students have created sketches and drawings, but we haven't gotten past that phase like we usually do when school is in person.  On the other hand, our students have become stronger educational technology users.  Distance learning has afforded our school to truly become a one-to-one device school, so we know that at least all of our students have some form of technology in their hands.  Our teachers have risen to the challenge of providing engaging lessons to students, stepped out of their comfort zones to use breakout rooms to host small group discussions, and have worked with students about what digital collaboration looks and sounds like.  
What are your plans for 2021?
My personal, professional goal for 2021 is to become Arts Integration Certified so I can help move our school out of the planning phase and into the doing phase of becoming a STEAM Academy.   
Learn more about the Nevada Governor's Designated STEM Schools here.