We interviewed Sean Hill to learn how Sierra Nevada Journeys is bringing STEM and the great outdoors together for  programs targeted towards youth education.
After more than 10 years with Sierra Nevada Journeys on the education team, Sean now leads Sierra Nevada Journeys' fundraising and development. As an experienced educator, he brings hands-on expertise to building relationships and partnerships. Sean is a former science teacher with the Teach for America program and holds a Bachelor of Science degree from Montana State University, a Master of Science in Human Dimensions of Natural Resources from Colorado State University, a State of Nevada Teaching License in Secondary Biology, and a Wilderness First Responder through the Wilderness Medicine Institute (NOLS). He sits on the Advisory Board for the Nevada Teach Program at UNR, and the Informal STEM Learning Environments Subcommittee of Nevada Governor's STEM Council. He loves helping to connect children with the outdoors and is also a big fan of deep powder snow.
Tell us a little about SNJ and who you serve.
Sierra Nevada Journeys is a 501(c)3 nonprofit that delivers innovative outdoor, science-based education programs for youth to develop critical thinking skills and to inspire natural resource stewardship. Through multiple points of contact, our classroom and virtual-based programs, overnight science camps, professional development for teachers, and parent engagement opportunities surround students with resources they need to succeed. All programs are designed to foster higher cognition and build long-term student achievement. Sixty-three percent of the 35,000 children that annually participate in our programs qualify for Free or Reduced meals at school, and more than 60 percent are youth of color. Also, 15 percent of the children who attend our programs are living with a disability. 
Why is STEM important to you and why should community care about STEM?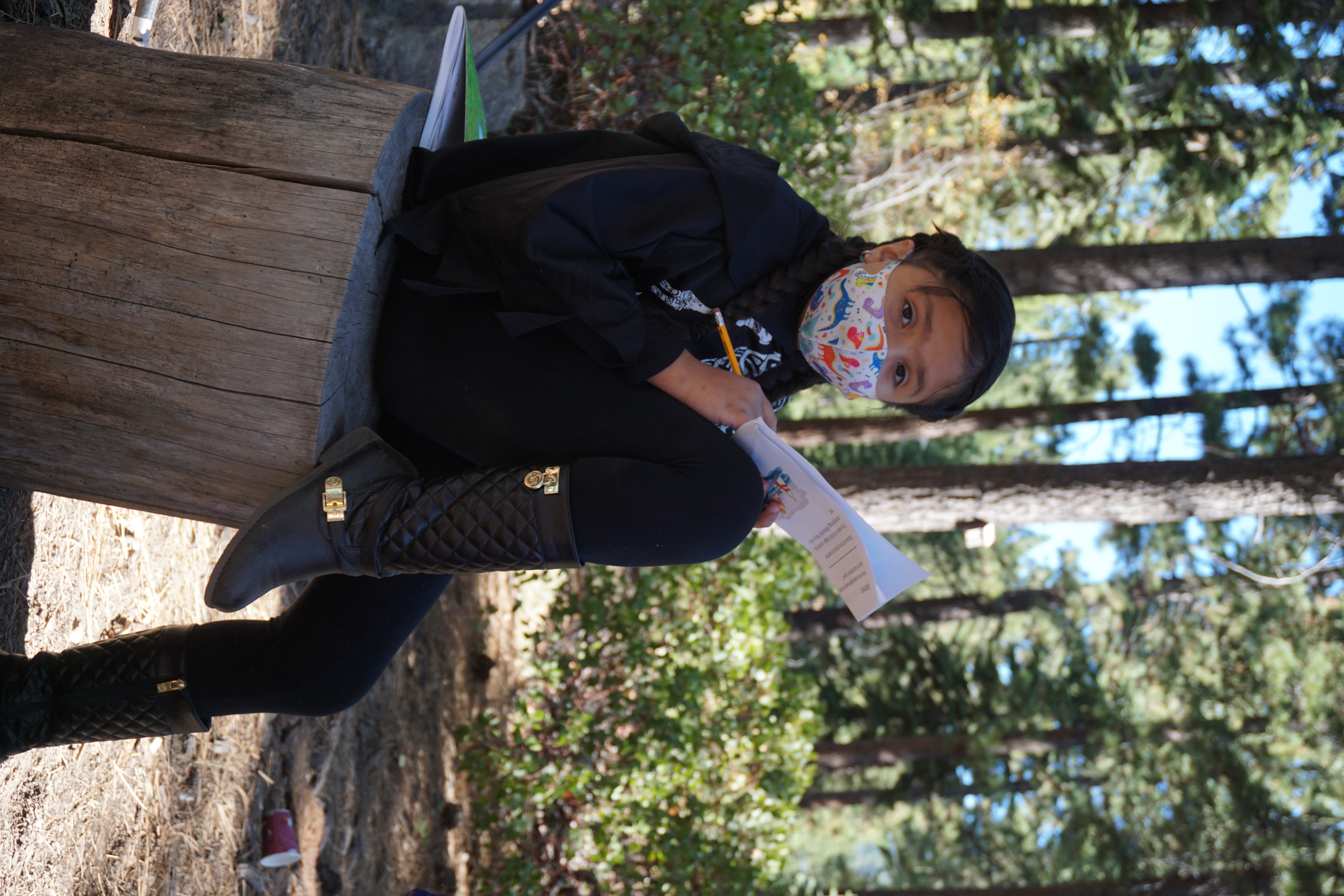 In Northern Nevada, with the recent arrival of the "big tech" companies like Switch and Tesla, it is critical to focus on preparing our youth now for the tremendous growth in STEM-based careers. At the same time, the community is growing and many new residents cite the beautiful landscape and access to outdoor recreation that northern Nevada offers.  Clearly, there is need to increase access to high-quality, impactful educational opportunities for youth in our community to build STEM literacy and outdoor stewardship.
What challenges has COVID-19 posed to SNJ and what have you done to overcome them?
With support from the Nevada Regional STEM Networks and other funding partners, Sierra Nevada Journeys rapidly adapted our programs in response to the COVID-19 pandemic and subsequent seismic shifts in education our local students have been facing. Sierra Nevada Journeys' educators developed several new open-source digital learning formats, allowing us to continue to provide important educational opportunities to children, families and educators so that our STEM content, nature and backyard-based exploration and the development of Social Emotional Learning (SEL) competencies could continue in novel ways. Despite shifting from in-person to virtual based programming, SNJ was still able to serve over 30,000 participants in 2020 with nine different online STEM units, 20 videos, 3 "virtual field trips" and 100+ bilingual lessons.
What are your plans for 2021?
As we move into the 2021 school year, Sierra Nevada Journeys recognizes that our local community has shifted as a direct result of both the COVID-19 pandemic and an equity focus to support Black, Indigenous and People of Color in the context of the Black Lives Matter movement. With this in mind, we are modifying our STEM programs by bringing in community stakeholders to amplify the experiences and perspectives of the diverse population of people and families who live in our communities. The Community Needs Assessment will include surveys, interviews and focus groups to further develop cultural relevancy and an equity focus in our programming. The Community Needs Assessment will support Sierra Nevada Journeys efforts to build intentional, mutually beneficial partnerships with these organizations and communities to support and create a thriving environment in classrooms across northern Nevada.
Is there anything else you'd like to share?
Sierra Nevada Journeys partnered with Great Basin Institute, Great Basin Outdoor School and Truckee Meadows Parks Foundation to create free virtual STEM lessons that support students and teachers with distance learning.
The Alternative Field Study Committee (AFSC) is a group of environmental organizations local to the Reno, Nevada metropolitan-area, who are committed to supporting environmental education opportunities for K-12th grade students. This committee has banded together to create programs that are catered to meet the unique new educational constraints caused by the COVID-19 pandemic. These resources are free, and designed with teachers in mind, to support both their distance and in-classroom learners with little-to-no amendments needed. Programs follow Next Generation Science and Common Core standards. Though these programs are designed for teachers and students in the public school system, they are also great resources for homeschool families, private school teachers, and youth-education programs. Each program comes with three resources: a pre-lesson component (educational video, PowerPoint, story, or activity that orients the learner to the concepts), the lesson itself, and a post-lesson component (which serves as a homework assignment or cool-down activity to wrap-up student learning and assist in measuring student comprehension).