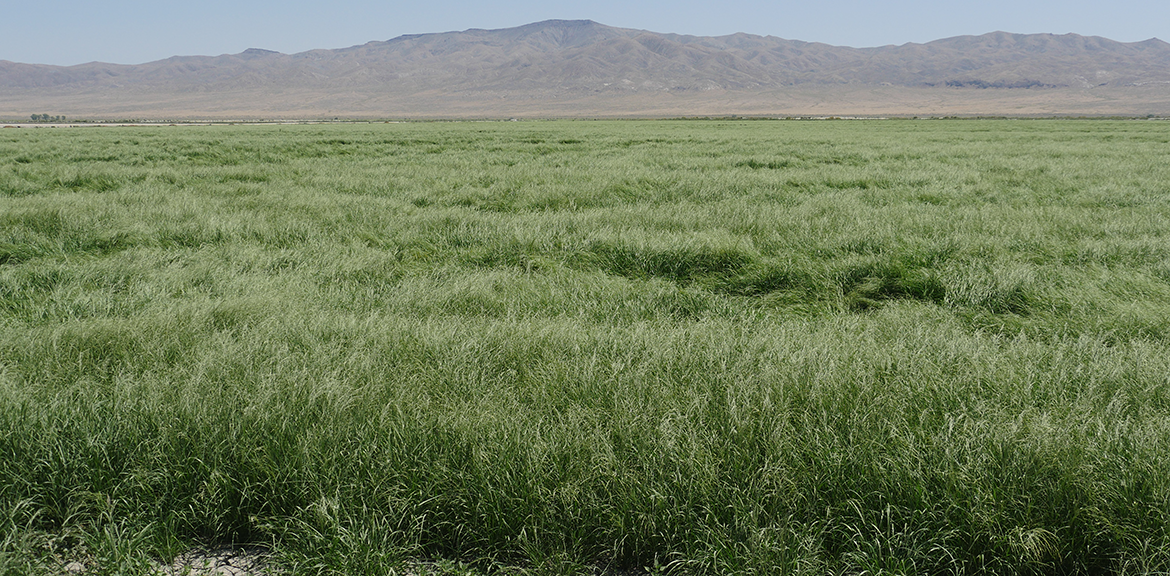 Written by Amber Smyer, agricultural literacy coordinator for the Nevada Department of Agriculture
Near Fallon, 17-year-old Myles spends his free time growing grain. As a freshman in a high school agricultural education class, he was encouraged to develop a work-based project through which he could apply and expand upon the knowledge and skills he was gaining in the classroom. In 2016, Myles grew 40 acres of teff (a small grain that thrives even in difficult climates) and 40 acres of white milo for dairy cattle feed. Through record-keeping and an application and interview process, Myles won the 2017 Nevada FFA Grain Production Proficiency Award.
In a brief conversation with Myles, it's easy to see science, technology, engineering and mathematics concepts — widely referred to as STEM — in his project. He discusses planting teff because of its drought tolerant traits, problem solving for insects and weather conditions, calculating and applying appropriate levels of fertilizers and pesticides and implementing efficient water practices. He also tracks field data to determine if various planting methods impact plant health and growth, budgets and pays suppliers and operates harvesting equipment.
The work of students like Myles highlights the application of STEM in food and agriculture – a growing industry sector across the United States.
Nearly 58,000 high-skill agriculture-related jobs are expected to open up between 2015 and 2020 according to the United Stated Department of Agriculture, and a projected 27 percent of those jobs will be in STEM. According to the study, they "…expect the strongest job market for plant scientists, food scientists, sustainable biomaterials specialists, water resources scientists and engineers, precision agriculture specialists and farm-animal veterinarians."
Nevada's top pathways in need of workforce are animal systems, food product/processing systems and plant systems. Check out the graphic below to see what kind of jobs these pathways include.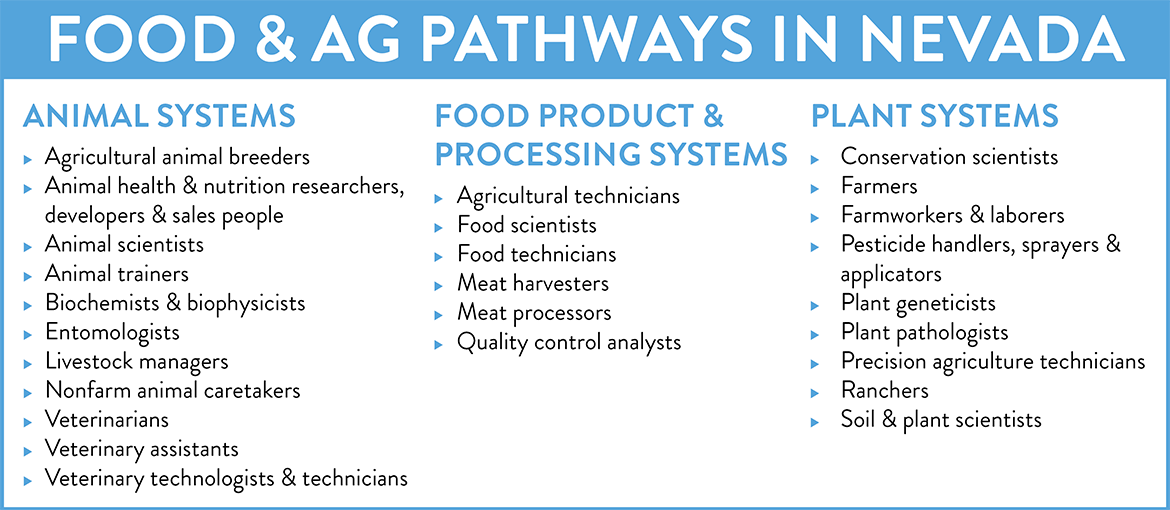 Agricultural education: building the future workforce
In order to support these occupations, a pipeline of students is needed, providing the next generation of scientific, technological and business leadership. Building the future workforce can start at the grade school level and continue through high school and on to post-secondary studies. Students are encouraged to explore STEM concepts with an agricultural focus at a young age through participation in school garden programs, 4-H and agricultural literacy activities and lessons.
As students advance to high school, agricultural education is an option to expand their knowledge and skills through classwork and Nevada FFA. More than 3,000 Nevada students are enrolled in a high school agricultural education class, and agricultural education is one of six recognized Career and Technical Education programs within the Nevada Department of Education.
Students enrolled in Nevada agricultural education programs have access to career pathways through numerous approved courses.
agricultural mechanics technology
agriculture business systems
agriculture leadership
animal science
communication and policy
environmental management,
floriculture design and management
food science technology
landscape design & management
natural resources & wildlife management
ornamental horticulture/greenhouse management
veterinary science
After participating in agricultural education, students will have developed technical and soft skills for more than 200 career choices in the food and agriculture sector. Some students will continue their education through programs at UNR's College of Agriculture, Biotechnology and Natural Resources or one of Nevada's community colleges, like Great Basin College (which offers degrees in natural resources, biological sciences, land surveying, welding technology and electrical systems) and College of Southern Nevada (which offers degrees in biological sciences, food service refrigeration, floral design technology, food & beverage management and welding technology), and others will enter the workforce. All of these students can have a career in agriculture, food or natural resources.  
Next steps to involve your child or teen
Help your child or teen take steps to learn more about a career in food and agriculture. If you have grade school children, encourage the school to start a garden or ask about participating in an existing school garden  (Nevada has more than 100!); ask your child's teacher to receive free Nevada Agriculture in the Classroom resources; or sign your child up for a 4-H program. Let your teens explore the possibility of joining a Nevada agricultural education program at their school.
It's an exciting time to be involved in food and agriculture, and we're optimistic that today's youth will rise to the challenges of feeding a rapidly increasing population, growing more food and fiber on less land and with less water. Foundational experiences in STEM will allow youth to develop innovative and sustainable practices, products and services for the future.
About Amber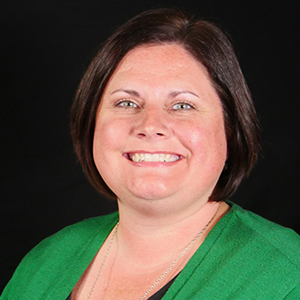 Amber Smyer conducts education and outreach activities at the Nevada Department of Agriculture, helping people understand the importance of food and agriculture in Nevada. The Nevada Department of Agriculture (NDA) promotes a business climate that is fair, economically viable and encourages a sustainable environment that serves to protect food, fiber and human health and safety through effective service and education. The NDA includes the divisions of Administration, Animal Industry, Consumer Equitability, Food and Nutrition and Plant Industry.