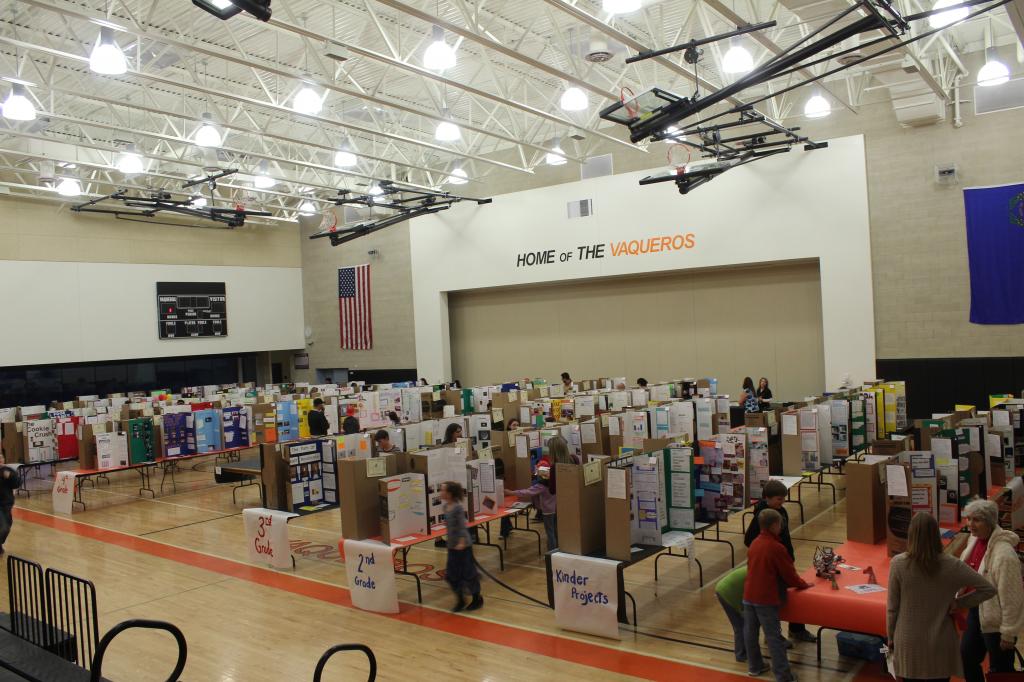 Before we get started, you may be asking yourself what is STEMfest? Simply put, it is a celebration of all things STEM wrapped up into a three-hour long event that is full of investigation, food, and fun!
STEMfest was started back in 2013 thanks to Brandolyn Thran and two teachers in Fernley, NV. Science fairs were no longer being held and Brandolyn was a parent who had an interest in getting something going. But the three of them wanted something different than the traditional science fair. They wanted something that viewed science more as a celebration, something that would not only highlight student work, but also showcase how local businesses use STEM as well as tackle the approach of making the event fun for the whole family.
With that model in place, the first ever STEMfest was hosted in the local high school gym with an offering of hot dogs for dinner and the hope of at least 200 attendees. Their attendance wound up breaking over 600 people.
When Brandolyn moved to Elko, NV, she brought the STEMfest model with her, and from there it has since spread to other towns.
What helped encourage it to spread? Getting local businesses involved with hands-on activities for the whole family certainly helped, but a big component could be the twist STEMfest has added to the science fair side of things. To start, the science fair projects are open to K-12 students, but the children can choose if they want their project to be judged. Judging puts a lot of pressure on children and their families, and typically drives parents to feel like they need to "help" to ensure the project looks good. But with the elimination of mandatory judging, the pressure is eased.
However! If you are a parent who loves science, don't fret! The STEMfest has three categories for participants: individual, group, and family. So, if you still really want to build a popsicle bridge with your child and let them help you decorate the tri-fold board, it's still an option.
They also broadened the science fair parameters to be more than just the traditional hypothesis-driven experiments. New categories were added to include exhibits on anything science-based that would get the kids motivated. "It seems like every year there's a volcano and there's dolphins," Brandolyn says. "Because they're just so excited and just want to tell us! And that's what it's all about! This is a celebration about all things STEM."
The final category is inventions, which gives future engineers their time to shine. And with a child's imagination, you can get the most interesting working inventions from a self-closing toilet seat to a shopping cart that pushes itself.
By broadening the traditional science fair into what STEMfest is all about, Brandolyn says they started to see a shift as time went on. For one, it became a highlight event. From 2013 to 2019, not only was there an increase in participation from the older student groups, but the depth of the projects went up as well.
But the most notable cultural shift for Brandolyn happened around 2017. STEMfest has traditionally been held at the end of February because it falls between sport seasons and is the only time the school gym is available. But this time, the Fernley High School basketball team made state. "The principal told us we might not be able to have the fair this year because they needed the gym," Brandolyn said. But then, "The basketball coach told the principal, 'I will find another place to practice. Fernley STEM Council gets the gym.'" Academics were finally put on level with school athletics.
So how does one go about getting their own local STEMfest going? For starters, build a good team. With the right team, it is not that difficult to get the ball rolling. Next, set a date 3-6 months out and back plan from there. Science fairs are built up in stages and the students will need adequate time to prepare. You can also contact Brandolyn! She is more than happy to offer advice and paperwork to help out and give you an idea of what businesses you can reach out to.
And if you're worried about the success of your new STEMfest, just remember, STEM is in everything you do. Cooking, driving, dying your hair, etc. This is just a celebration that helps open people's eyes to see that it's there. So don't be afraid to run with it and have fun.
You can reach Brandolyn at brandolyn.thran@nevadaoutdoorschool.org for any inquiries about STEMfest.